Mac Mobile Phone Data Recovery
Mac mobile phone recovery software is useful program to recover deleted digital photos, pictures, mp3/ mp4 files, songs and other valuable data from your cell phone. Macintosh mobile phone recovery program quickly searches all lost data and recovers in less time and efforts.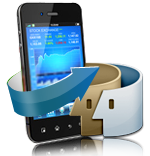 Why this software is so useful:
Recovers lost or deleted data saved in different types of file extensions.
Software has advanced inbuilt disk scanning techniques to scan and recover lost data.
Software Features:
►

Mac phone recovery software instantly recovers your lost birthday images, party albums, song list and other essential data from corrupted mobile phone memory card.
►

Mobile phone recovery program for Mac OS X uses advance disk scanning technology to search and recover lost cell phone data.
►

Macintosh cell phone recovery software restores deleted data even if system generated error message display on your MAC machine while working with mobile phone device.
►

Mobile phone data recovery software for Apple Mac OS X restores lost data from all major brands of cell phone such as Nokia, Samsung, LG, Sony Ericsson, BlackBerry etc.